In this variation of monotype printmaking, use a printing press in combination with stencils and other mark-making methods to create spontaneous artwork. You'll be guided through the basics of inking the plate and transferring your compositions onto Bristol paper while experimenting with color, text, and line.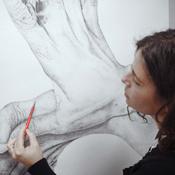 About the instructor, Dana Harel:
Dana Harel was born and raised in Tel Aviv, Israel. She received a Bachelor of Architecture degree from the California College of the Arts in San Francisco. Harel's drawings evolve organically, fusing themes of man and environment. Her understanding of form through architecture leads to transformative depictions of human and animal, offering us an idea and not solution to our own internal struggle. Harel's exhibitions have appeared in galleries around the world.
---
• Join & share on Facebook
---
INSTRUCTORS:
RELATED: