Friday, April 29, 2011 - Sunday, July 17, 2011
VENUE: Project Space Gallery
Lucas Artist Fellow Andre Woodward, a selected artist for the 2011 Visions from a New California award, will transform the gallery into a virtual "grow lab" with ten of his sculptural installations that reflect his interest in biodiversity and complexity theory and the unique balance they embody. Reflecting Montalvo's thematic examination of Natural and Creative Capital, Woodward's sculptures incorporate a mixture of plant life and manmade materials in an attempt to personify the ecological facilitation that occurs between nature, technology, and humanity.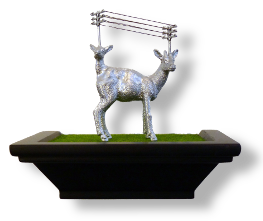 Have time to spare? Click here to learn how you can volunteer your time and talent to Montalvo!
Stay connected: Enter your email address to begin receiving Montalvo's weekly e-newsletters!
THIS IS A FREE EVENT!
ARTISTS:
RELATED: