Friday, July 29, 2011 - Sunday, October 16, 2011
VENUE: Project Space Gallery
Scientists and artists alike are fascinated with mapping both natural and manmade phenomena, from landscapes to highways to towns, from human behaviors to digital data. Maps provide navigation systems and access to places unknown. As part of Natural and Creative Capital, a review of the current recordings of humanity and human nature seemed in order. More and more frequently, it is our artists that are being called upon to assist in visualizing and interpreting information. Artists Lordy Rodriguez, Adriane Colburn, Alexander Chen, Amanda Hughen, and Ehren Elizabeth Reed present their works of mapping developed from their own personal introspection into geography and identity, ranging from a delicate interpretation of city infrastructure to a sound composition and data visualization based upon the New York City subway systems. Employing the tools of cartography, these artists allow visitors to explore the peaks and valleys in which a creative mind travels the imagination to interpret reality.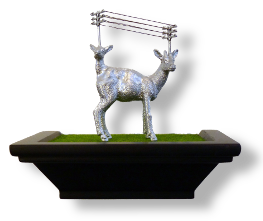 Have time to spare? Click here to learn how you can volunteer your time and talent to Montalvo!
Stay connected: Enter your email address to begin receiving Montalvo's weekly e-newsletters!
THIS IS A FREE EVENT!
RELATED: