Friday, October 28, 2011 - Sunday, January 15, 2012
VENUE: Project Space Gallery
As a conclusion to Natural and Creative Capital, Soil to Site provides a contemplative look at the relationship between culture and nature. Throughout history, artists have chosen natural spaces as their subject matter and now more than ever it seems these relationships are complicated with concerns for the sustainability of place, the permanence of humanity, and our own interconnection to the vast world. It is through the reflections of video artist Richard T. Walker, the photographs of Sean McFarland, and the collection of Bay Area artist Mari Andrews that the viewer will ponder their very own relationship to the world around them, and to what we hold dear and what we disregard.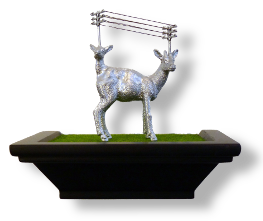 Stay connected: Enter your email address to begin receiving Montalvo's weekly e-newsletters!
THIS IS A FREE EVENT!
ARTISTS:
RELATED: