Friday, October 29, 2010 - Sunday, January 16, 2011
VENUE: Project Space Gallery
Rachel Sussman's landscape-based photography is rooted in a subtle exploration of humanity's complex relationship with nature and, by extension, with itself. Sussman employs formal devices such as restricted color palates, careful consideration of the tensions between grounds, and selective use of lines and shapes to further the dialogue between aesthetics, content, and form. What results is a unique visual system, imbued with cultural, natural, and scientific context drawn from her travels all around the world.
NOTE: The gallery will be closed from December 23 - January 5.
Visit our Facebook Event page for this exhibition, RSVP and "Like" Montalvo!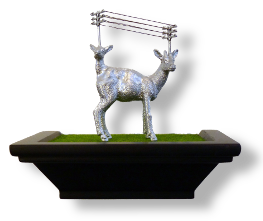 Have time to spare? Click here to learn how you can volunteer your time and talent to Montalvo!
Stay connected: Enter your email address to begin receiving Montalvo's weekly e-newsletters!
THIS IS A FREE EVENT!
RELATED: